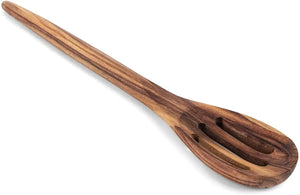 This beautiful acacia wood kitchen tool is crafted from sustainably harvested, gorgeous acacia hardwood, known for its unique and natural contrasting patterns and antibacterial properties. It is completely natural as we leave all of our wood in its natural state with no varnishes or lacquers. The slotted design allows liquids to strain through. Wooden spoons allow you to cook and mix foods without scratching your non-stick pans, or transferring heat like metal spoons do. 
Dimensions: 12"
Hand wash and towel dry immediately. Wood products should never be washed in the dishwasher.
Wood is a natural material, and each spoon will vary in color.