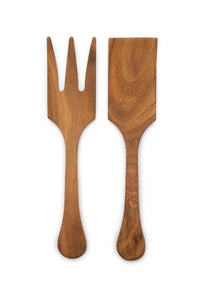 Made of gorgeous acacia hardwood, our extra large salad utensil set is functional and beautiful due to its rich, shimmering colors. Easily toss and serve salads in style.
Dimensions: 2.8" x 13"
Wash in warm, soapy water and thoroughly rinse with clean water. Do not soak. To dry, prop up off of counter to allow all surfaces to air dry evenly.
Wood products should never be washed in the dishwasher.