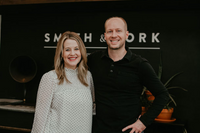 Our Story
Located on the square in downtown Columbia, Tennessee, Smith & York Co. is a modern home boutique founded by Kathryn & Adam York, offering a diverse selection of home decor, gift items, wedding registry, and home styling services. Learn about our mission, history, and team.
LEARN MORE
What Our Customers Are Saying
One of the best little home shops and more! Some of the nicest decor in this area! The owner is kind, sweet, and cares about the community.

Stacey L.
This store by far is my favorite. I want everything and probably will get it all eventually. Staff flippin' rules, too. 

Ryan L., Nashville, TN
The Square in Columbia is developing into an exciting, yet charming, destination for shopping, dining and fun and Smith & York is a new retail hot spot you do not want to miss. Home furnishing, accessory and gift ideas abound in this sophisticated and comfortable boutique. Prices are great and so is the service!

Matt H., Spring Hill, TN
A great local downtown store, and if you are looking for a nice gift but one that is not also over priced. Nice folks and a great store for downtown Columbia.

Andy B., Lewisburg, TN
Smith & York Co. is charming and sophisticated. Perfect spot to snag some home decor or a unique gift for friends/family. Find anything your heart desires from lamps, furniture, shaving kits, glassware, candles, soaps, jewelry, and more!

Kaitlyn N., Thompson's Station, TN
This place has so many beautiful and unique things from charcuterie boards and wine glasses to purses and pillows. The store candles burning smelled inviting, too. Prices are conservative for the quality of the items.

Stefani D.
Lovely decor, great prices, and the owners are so nice & helpful! We will definitely be back to support this local, family-owned business! What a great place to shop, so close to home!

Celena M.
I was in Columbia visiting from Knoxville, and we stopped into Kathryn and Adam's gorgeous boutique. The prices are extremely affordable, the customer service wonderful, and of course the products are to die for! 

Delaney Y., Knoxville, TN
One of the best little home shops and more! Some of the nicest decor in this area! The owner is kind, sweet, and cares about the community.

Stacey L., Columbia, TN
Location
Location & Hours
30 Public Square, Columbia, TN 38401
Phone: 931.797.9873
Sunday 12:00 pm - 4:00 pm
Mon.-Thurs., 10:00 am - 5:00 pm
Fri.-Sat., 10:00 am - 7:00 pm