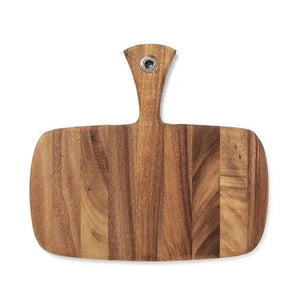 Made of gorgeous acacia hardwood, this small rectangular Provençale paddle board is functional and beautiful due to its rich, shimmering colors. The featured grommet allows you to easily hang the board on display when not in use or for air drying. These handcrafted acacia wood paddle boards are the perfect centerpiece board to hold your cheeses, cured meats, olives, dried fruits, nuts and crackers.
Dimensions: 12" x 11"
This item is only available for in-store pick-up or local delivery.
Serving boards are not intended to be used as cutting boards. 
Wood is a natural material, and each board will vary in color.  
HOW TO CARE FOR YOUR BOARD
Wood:
To maintain a wood board, apply food-safe oils or waxes to keep wood conditioned. Do not let the wood sit in water. Gently use a rag and soapy water to clean. Dry immediately.