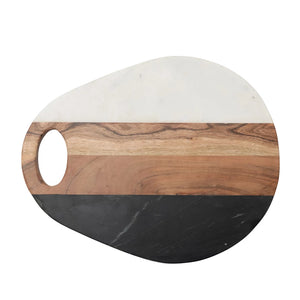 This magnificent tricolor serving board is made of marble an acacia wood. 
Dimensions: 15"L x 12"W 

Serving boards are not intended to be used as cutting boards. 
Wood and marble are natural materials, and each board will vary in color. 
HOW TO CARE FOR YOUR BOARD
Marble:
Hand wash marble with a mild dish detergent and soft sponge. Sanitize with a solution of half water and half vinegar or a board soap/cleaner that is food-safe. Don't clean in the dishwasher or expose marble to drastic temperature changes, which can cause cracks. 
Wood:
To maintain a wood board, apply food-safe oils or waxes to keep wood conditioned. Do not let the wood sit in water. Gently use a rag and soapy water to clean. Dry immediately.