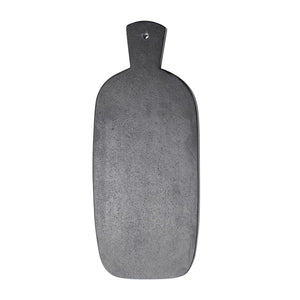 This board is made of black marble. It is the perfect size to serve 2-4 people as an appetizer. It would also make for a cute board resting against your back splash.  
Dimensions: 15"L x 6"W
Serving boards are not intended to be used as cutting boards. 
Marble is a natural material, and each board will vary in color. 
HOW TO CARE FOR YOUR BOARD
Marble:
Hand wash marble with a mild dish detergent and soft sponge. Sanitize with a solution of half water and half vinegar or a board soap/cleaner that is food-safe. Don't clean in the dishwasher or expose marble to drastic temperature changes, which can cause cracks.