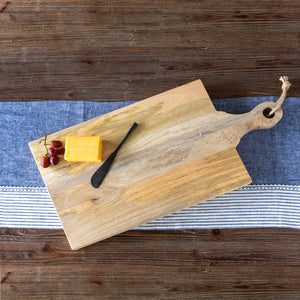 This wood board is great for cutting and serving and its smooth, natural texture makes it a beautiful piece to display.
Dimensions:  22 1/4"L x 11 1/4"W x 1 1/4"H
Serving boards are not intended to be used as cutting boards. 
Wood is a natural material, and each board will vary in color. 
HOW TO CARE FOR YOUR BOARD
Wood:
To maintain a wood board, apply food-safe oils or waxes to keep wood conditioned. Do not let the wood sit in water. Gently use a rag and soapy water to clean. Dry immediately.